The Safari is a guided tour around the retail, brand and consumer landscape. We interview the brightest and most innovative industry leaders who share how they are shaping and evolving the industry in the years to come. Guests come from all corners of the industry from retail, beauty, fashion, CPG, academia, agencies, real estate, investing and more. At Traub we have the privilege of working broadly across these numerous fields and collaborating with these talented leaders.
Episodes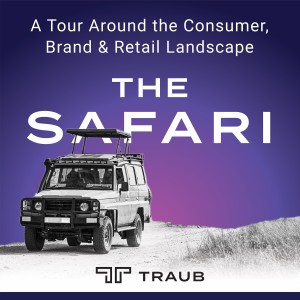 Tuesday Jun 28, 2022
Tuesday Jun 28, 2022
Kara Goldin is the Founder of Hint, Inc., best known for its award-winning Hint® water, the leading unsweetened flavored water. She has received numerous accolades, including being named EY Entrepreneur of the Year 2017 Northern California, one of InStyle's 2019 Badass 50, Fast Company's Most Creative People in Business, WWD Beauty Inc.'s Feel Good Force and Fortune's Most Powerful Women Entrepreneurs. 
Kara's first book, Undaunted: Overcoming Doubts and Doubters,was released October 2020 and is now a WSJ and Amazon Best Seller.
Interviewed by Mortimer Singer