The Safari is a guided tour around the retail, brand and consumer landscape. We interview the brightest and most innovative industry leaders who share how they are shaping and evolving the industry in the years to come. Guests come from all corners of the industry from retail, beauty, fashion, CPG, academia, agencies, real estate, investing and more. At Traub we have the privilege of working broadly across these numerous fields and collaborating with these talented leaders.
Episodes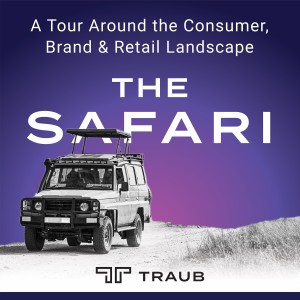 Tuesday Jun 07, 2022
Tuesday Jun 07, 2022
Catherine Bond Muir may not seem the obvious candidate to have founded the world's first all-female single-seater motor racing championship. A former intellectual property solicitor, in 2000 she moved into corporate finance and spent more than a decade working on sports and gaming deals. W Series, born at Catherine's dining table, is a free-to-enter championship that provides equal opportunities for women and eliminates the financial barriers that have historically prevented them from progressing to the upper echelons of motorsport.
By placing all participants in identical cars, the series ensures that talent takes precedence. Since its inaugural season in 2019, W Series has created the greatest number of professional women racing drivers of all time. In 2021, W Series entered a new landmark partnership with Formula 1 and supported the world's premier motor racing series at seven Grand Prix weekends. This year, W Series will stage 10 races at eight Formula 1 Grand Prix weekends across three continents, including a first-ever race in Asia at the Japanese Grand Prix.
Interviewed by Mortimer Singer.