The Safari is a guided tour around the retail, brand and consumer landscape. We interview the brightest and most innovative industry leaders who share how they are shaping and evolving the industry in the years to come. Guests come from all corners of the industry from retail, beauty, fashion, CPG, academia, agencies, real estate, investing and more. At Traub we have the privilege of working broadly across these numerous fields and collaborating with these talented leaders.
Episodes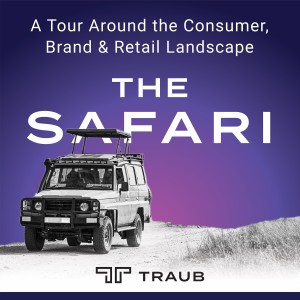 Tuesday May 24, 2022
Tuesday May 24, 2022
Kyle is the founder and CEO of Win Brands Group, an omnichannel retail platform that buys and builds category-defining brands. Win's stable of brands includes Homesick (scented candles and home fragrance), QALO (silicone wedding rings and accessories), Gravity (the original weighted blanket), and Love Your Melon (mission-driven outerwear).
Kyle has spent over a decade honing the art of consumer-focused venture capital and brand building. His background includes working side-by-side with branding guru J. Christopher Burch, as well as founding multiple best-in-class investment and marketing operations in the US and abroad. 
Interviewed by Mortimer Singer.