The Safari is a guided tour around the retail, brand and consumer landscape. We interview the brightest and most innovative industry leaders who share how they are shaping and evolving the industry in the years to come. Guests come from all corners of the industry from retail, beauty, fashion, CPG, academia, agencies, real estate, investing and more. At Traub we have the privilege of working broadly across these numerous fields and collaborating with these talented leaders.
Episodes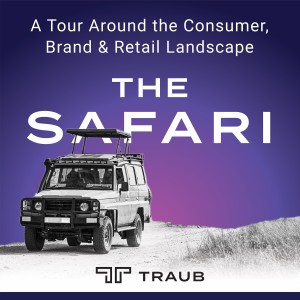 Tuesday Jun 14, 2022
Tuesday Jun 14, 2022
Romain Gaillard was raised in Paris, France by parents who were early adopters of the green living movement. After embarking on a career in tech, a friend's health battle opened his eyes to the need in the beauty industry for healthier self-care and wellness options. Romain took the leap of faith to switch career paths and pioneer the green beauty movement. Thus the Detox Market was born. The Detox Market curates the purest, most unique and sought-after products, based on three criteria: zero toxicity, highest efficiency and style.
They are the beauty choice of the new generation: Beauty without toxins, Beauty with expertise, and Beauty with integrity.
The Detox Market started in 2010 as a 2-month pop-up curating the best of green beauty and was awarded Best Concept store by WWD. It is now recognized both by press and by customers as one of the foremost North American destinations for green beauty and living.
Interviewed by Mortimer Singer