The Safari is a guided tour around the retail, brand and consumer landscape. We interview the brightest and most innovative industry leaders who share how they are shaping and evolving the industry in the years to come. Guests come from all corners of the industry from retail, beauty, fashion, CPG, academia, agencies, real estate, investing and more. At Traub we have the privilege of working broadly across these numerous fields and collaborating with these talented leaders.
Episodes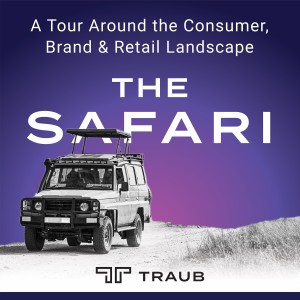 Thursday May 11, 2023
Thursday May 11, 2023
In 1996, Neely Woodson Powell met a cobbler who made fashionable yet comfortable shoes in the small Mexican village of San Miguel de Allende. Impressed with the style and versatility, Neely started selling the hand-sewn shoes alongside her mother's furniture markets and met her first of many loyal customers. After enrolling in a design program at SCAD and with the production support of the founding family of cobblers, Neely launched Charleston Shoe Co., known for machine washable, hand-crafted, and comfortable shoes. Beginning with her first store in 2010, she effortlessly pivoted from selling shoes from the trunk of her car to having 18 locations and over 300 wholesale accounts around the US today. 
In addition to being the owner and founder of Charleston Shoe Co., Neely is a mother, an avid traveler, and very active in the Charleston community. It is her charisma and charm that people are drawn to, and why Charleston Shoes have been embraced by women all over the country.
Interviewed by Kate Doerge.