The Safari is a guided tour around the retail, brand and consumer landscape. We interview the brightest and most innovative industry leaders who share how they are shaping and evolving the industry in the years to come. Guests come from all corners of the industry from retail, beauty, fashion, CPG, academia, agencies, real estate, investing and more. At Traub we have the privilege of working broadly across these numerous fields and collaborating with these talented leaders.
Episodes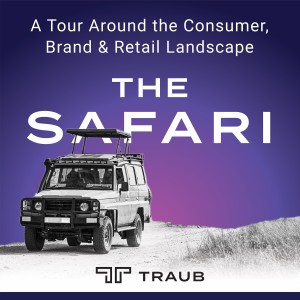 Tuesday Jun 21, 2022
Tuesday Jun 21, 2022
Nicole Eckels began her career as a makeup artist and eventually moved into corporate sales. After a stint in San Francisco, Eckels decided she needed a more challenging outlet. In 2006, she flew to Australia where she found her "true calling." Shopping for bath and body products in a Sydney department store, Eckels was frustrated that she couldn't find what she was looking for and quickly realized there was a huge gap in the market. A spirited entrepreneur at heart, Glasshouse Fragrances was launched with a spark of imagination and the firm belief in the power of fragrance to transform the everyday.
Today, Glasshouse Fragrances is a leading brand in the Australian fragrance market and has expanded its product offerings to include eau de parfum, body lotion, shower gel, bar soap, fragrance diffusers and more. Eager to bring her premium brand of electrifying scents to the U.S., Nicole is back in the States and launched Glasshouse Fragrances North America in the summer of 2021. In less than a year, the brand is being showcased in major retailers such as Neiman Marcus, Saks, and Bloomingdale's - as well as influential online platforms and independent doors across the country.
Interviewed by Mortimer Singer.