The Safari is a guided tour around the retail, brand and consumer landscape. We interview the brightest and most innovative industry leaders who share how they are shaping and evolving the industry in the years to come. Guests come from all corners of the industry from retail, beauty, fashion, CPG, academia, agencies, real estate, investing and more. At Traub we have the privilege of working broadly across these numerous fields and collaborating with these talented leaders.
Episodes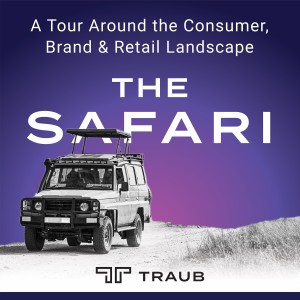 Wednesday May 17, 2023
Wednesday May 17, 2023
Dr. Samuel West's work and research is driven by curiosity and a playful experimental approach. As a licensed clinical psychologist, Samuel specialized in cognitive behavioral therapy and treated depression, anxieties, relationship problems, etc. He later became obsessed with the psychology of happiness, in particular happiness related to work and the complex relationship between happiness and affluence. During a mid-career break from consulting, he spent 5 years at Lund University, doing research and teaching positive psychology, creativity, organizational science, and various clinical courses. His PhD in organizational psychology focused on how workplace playfulness boosts innovation. He is American-Icelandic, and after many years in Sweden, is now based in Spain.
Since founding the Museum of Failure, Samuel has become the leading expert on helping teams and organizations understand the role of failure for innovation and progress, improve the acceptance of failure, and appreciate the benefits of psychological safety. He educates and inspires with the fascinating stories of the artifacts at the Museum of Failure.
Interviewed by Mortimer Singer.